As an Amazon Associate, I earn from qualifying purchases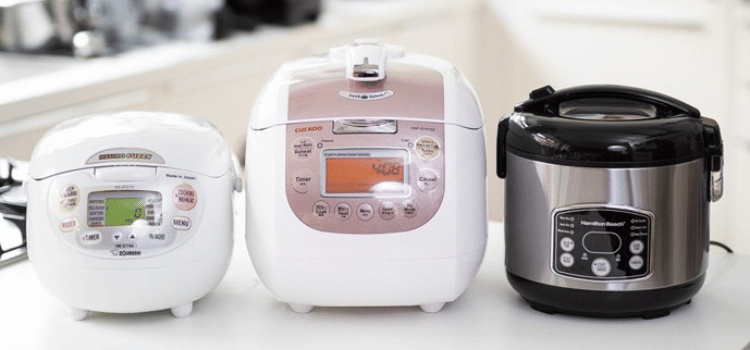 Japanese rice cookers have gained a reputation for being remarkably expensive compared to their counterparts from other countries. The hefty price tags often leave consumers puzzled and wondering what justifies the high cost. In this article, we will explore the reasons behind the premium pricing of Japanese rice cookers and shed light on their unmatched quality and features.
Introduction
Japanese rice cookers have established themselves as the gold standard in the culinary world. Renowned for their precision, durability, and ability to produce flawlessly cooked rice, they have become a staple in households and professional kitchens alike. While it may be easy to dismiss their elevated prices as a result of branding or hype, there are several key factors that contribute to their cost.
Quality and Durability
Craftsmanship and attention to detail are fundamental characteristics of Japanese culture, and they extend to the production of rice cookers. Japanese manufacturers take great pride in creating products that stand the test of time.
These rice cookers are meticulously crafted using high-quality materials, ensuring longevity and reliability. By investing in a Japanese rice cooker, consumers can enjoy the peace of mind that comes with owning a durable appliance that will consistently deliver exceptional results.
Advanced Cooking Technology
Japanese rice cookers are equipped with advanced cooking technologies that set them apart from their competitors. One such innovation is induction heating, which utilizes electromagnetic fields to heat the entire cooking vessel evenly. This precise method allows for better control over the cooking process, resulting in perfectly cooked rice with each use.
Versatility and Functionality
Japanese rice cookers are celebrated for their versatility and functionality. They offer a wide range of cooking modes and settings, allowing users to prepare various types of rice, from fluffy white rice to sticky sushi rice. Additionally, these cookers often come with additional features that enable the preparation of other dishes such as porridge, steamed vegetables, and even cakes. The ability to multi-task and simplify meal preparation makes Japanese rice cookers an indispensable tool in the kitchen.
Brand Reputation
Japanese brands have built a strong reputation for producing top-quality products across various industries, and rice cookers are no exception. Companies like Zojirushi, Panasonic, and Tiger have become synonymous with excellence and reliability.
The reputation of these brands, combined with their commitment to delivering exceptional performance, justifies the premium price tags attached to their rice cookers. Consumers recognize the value of investing in a brand with a proven track record of producing high-quality appliances.
Cultural Significance
To understand the price of Japanese rice cookers, it is essential to consider the cultural significance of rice in Japan. Rice holds a central place in Japanese cuisine and culture. It is a staple food that is meticulously prepared and revered for its taste and texture.
Japanese rice cookers, therefore, embody the traditions and heritage associated with rice cooking. They provide a connection to traditional cooking methods while incorporating modern technology, ensuring that the cultural significance of rice is preserved.
Consumer Expectations
Japanese consumers have high expectations when it comes to the performance and reliability of kitchen appliances. This demand for excellence has shaped the development and design of Japanese rice cookers.
The meticulous attention to detail and focus on creating a superior cooking experience contribute to the higher price point. Consumers who prioritize the quality and consistency of their rice are willing to pay a premium for a product that meets their expectations.
Import Costs and Distribution
The cost of Japanese rice cookers can also be influenced by importation expenses and distribution logistics. Bringing these products from Japan to other parts of the world involves various costs, such as transportation, customs duties, and localized marketing efforts.
These factors contribute to the overall price of Japanese rice cookers in international markets. Additionally, limited availability in certain regions may further impact the pricing, as it increases the demand and exclusivity of these appliances.
Product Development and Research
Japanese manufacturers are dedicated to continuous product development and research. They invest significant resources in enhancing their rice cookers' performance, introducing new features, and improving user experience.
This commitment to innovation requires substantial investment in research and development, which is reflected in the pricing of the final product. Consumers who opt for Japanese rice cookers benefit from the cutting-edge technology and ongoing improvements that result from this continuous pursuit of excellence.
Comparative Analysis
When comparing Japanese rice cookers with their counterparts from other brands and countries, it becomes evident that the higher price is justified by the unique features and benefits they offer. While other rice cookers may be more affordable, they often lack the precision, durability, and versatility that Japanese rice cookers provide. The ability to consistently cook perfect rice and offer a wide range of cooking options sets Japanese rice cookers apart as a worthwhile investment.
Customer Reviews and Testimonials
Countless customer reviews and testimonials attest to the exceptional performance of Japanese rice cookers. Users praise the consistent results, ease of use, and durability of these appliances.
Many customers express satisfaction with their purchase, highlighting the value they find in the long-term benefits and reliability of Japanese rice cookers. These positive experiences and feedback reinforce the notion that the higher price is justified by the quality and performance delivered.
Price vs. Value
While Japanese rice cookers may come with a higher price tag compared to other options, it's crucial to consider the value they offer. The investment in a Japanese rice cooker goes beyond the initial cost. These appliances are built to last, ensuring years of reliable performance.
The precise cooking technology, versatility, and durability of Japanese rice cookers contribute to their long-term value. By purchasing a high-quality rice cooker, users can enjoy consistently delicious meals and peace of mind, knowing they have made a worthwhile investment in their culinary experience.
Market Demand and Competition
The market demand for Japanese rice cookers is driven by consumers' appreciation for quality and performance. The reputation of these cookers has created a dedicated fan base that seeks out the unique features and benefits they offer.
However, this demand has also attracted competition from other brands and countries. As a result, there is a wide range of rice cookers available in the market, catering to different budgets and preferences. While Japanese rice cookers may remain on the higher end of the price spectrum, the availability of alternative options ensures that consumers can find a suitable rice cooker that meets their specific needs.
Future Prospects and Trends
Looking ahead, the future of Japanese rice cookers appears promising. With advancements in technology and evolving consumer demands, manufacturers are continuously innovating to stay ahead of the competition. It is anticipated that future models will incorporate even more advanced features, such as smart connectivity and improved user interfaces. Additionally, as the popularity of Japanese cuisine continues to grow globally, the demand for authentic Japanese rice cookers may lead to more accessible pricing options, making them more widely available to a larger audience.
Conclusion
Japanese rice cookers are renowned for their exceptional quality, advanced cooking technology, and versatile functionality. While the higher price may initially seem daunting, it is justified by the craftsmanship, durability, and precise results these cookers consistently deliver. Japanese brands have earned their reputation for excellence and reliability, making their rice cookers highly sought after by consumers who prioritize performance and longevity. By investing in a Japanese rice cooker, individuals can elevate their cooking experience and enjoy the benefits of owning a top-tier appliance.
To explore the range of Japanese rice cookers and discover the perfect one for your culinary needs, take the next step and explore the options available to you. Upgrade your cooking game with a Japanese rice cooker and experience the remarkable difference it can make in your meals.
FAQs
Q: Are Japanese rice cookers only suitable for cooking rice?
A: While Japanese rice cookers excel at cooking rice, many models offer additional functions such as steaming vegetables, making porridge, and even baking cakes.
Q: Can I use Japanese rice cookers with different types of rice?
A: Yes, Japanese rice cookers are designed to handle various types of rice, including white rice, brown rice, sushi rice, and more. They provide optimal cooking settings for each type.
Q: Do Japanese rice cookers require any special maintenance?
A: Japanese rice cookers are generally easy to maintain. Regular cleaning and proper care, as outlined in the user manual, will ensure optimal performance and longevity.
Q: Are Japanese rice cookers energy-efficient?
A: Yes, Japanese rice cookers often come with energy-saving features, such as efficient heating elements and timers, to minimize electricity usage.
Q: Can I find Japanese rice cookers outside of Japan?
A: Yes, Japanese rice cookers are exported worldwide. They are available in specialty kitchen stores, online marketplaces, and authorized retailer websites.